Happy Sunday everybody...hope everyone's having a fabulous weekend!!
Today, I'm excited to be linking up with
Ashley @
Ashley's Carnival Ride
&
Neely @
A Complete Waste of Makeup
FYI ~ If you haven't checked these ladies out yet, it's about time you did!! ;) But so, they have started a weekly Sunday link-up called:
Sunday Social
(read more about it
here
)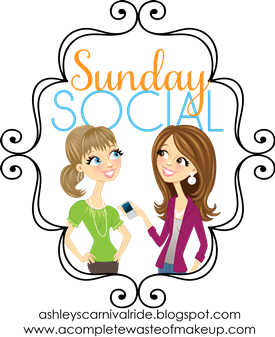 What is it?? The Sunday social will be 6 questions every Sunday that all have a similar theme to them. Its a great way to meet new people, gain some followers and find new blogs you can't wait to read! People will slowly get to know you. You can add pictures to the posts, videos, whatever you want.

AND, today is the 1st day...so if you link up today, everyone that links up is going to be entered in to potentially win a $20 gift card to Starbucks!! Thanks ladies!! I don't know about you, but any giveaway involving Starbucks, I'm entering it!! :P

So here are this week's questions...
How did you come up with your blog name?
I sorta already talked about this on
another post
, so I'm going to bring some of the verbiage over here: "...why I chose "Change is Necessary for Growth" as my blog title. It's fairly long, I know, but here's the deal...when I went to begin my blog, I struggled in coming up with a name (as I'm sure many bloggers do). I couldn't think of anything that sounded good with my name in it, but I wanted it to be something personal and memorable. #1 - I have always been big into quotes...I used to keep a notebook full of quotes that I would write down, whenever I would stumble upon one that I liked. #2 - Also, at the time I started it, I told you (above) that I was going through a
ton
of changes AND was looking at at least a few more years of many changes ahead of me! Change was just becoming part of my everyday experiences...new cities, new jobs, new friends, etc. #3 - For a long time, I've been a big proponent of always trying new things, adapting to situations, and trying to enjoy every new experience that gets thrown my way. So, the quote below my title was one that I had written down years ago, and it just speaks to me...and became the basis of my blog title."
*Check the full post out...it goes into a lot more detail!
What is your favorite thing about blogging?
My favorite thing about blogging is being able to connect with people or those who are reading my blog. I might blog about something I think that no one would be interested in, or care anything about, and low & behold, someone will comment saying that they feel that exact same way or are really interested to learn more about that topic. It's just awesome to begin noticing how much blogging really connects people from all over the country, and even the globe - it's like its own little support system too. Having and meeting new 'blog friends' has been SO fun, so far! :P
What is one thing you have discovered because of blogging and now can't live without?
I would definitely have to say Pinterest...now I discovered it quite awhile back, but I remember hearing about it first on a few blogs. I had no clue what it is was, but the minute I hopped over to see what it was, and signed up...I WAS HOOKED! That thing is addicting, but so freakin' fabulous for sharing ideas, recipes, quotes, pictures...you name it, you can create a Board for it. I love it and absolutely can't (really) live without it. ;)
*Connect with me on
Facebook or Twitter? and why?
Twitter...I love how fast Twitter is (although it can get a little overwhelming sometimes...the other day I came back to my computer after about 30 minutes and had missed like 400-some tweets. Whoa people! :0). Anyway, it's such an easy way to connect with people/companies, message specific people, compliment bloggers on their posts/pics
*Connect with me on
&
If one celeb read your blog who would you want it to be?
That's a tough one... but probably Zooey Deschanel.
via
I mean, how cute is she?! She is definitely someone I would want to hang out with (if I ever got the chance)...she seems like such a fun-loving, easy-going, and brilliant (did I mention HILARIOUS?) chick. I love following her on
New Girl
,
twitter
,
Hello Giggles
and just about any movie she's in, I'm watching it! Basically...she is just fabulous in my book. If she was reading my blog, I'd be pretty stoked!! :P
What is something you want people to know about your blog?
Just that my blog doesn't really have its own niche...and I'm okay with that for now. I think that it's important for blogs to have their own niche (fashion, fitness, food, etc.)...because (at least what I've found) when they put focus on one thing, they get quite the following and become "experts" in that area, so they are pretty successful. But for me, I just don't know what my niche would be, so for now, readers can expect to find posts on all different kinds of things, including (but not limited to): food, fashion, books, movies, Crossfit, running, Paleo Diet, my doggies, knitting, DIY/crafting, yoga - plus lots of link-ups (they're SO fun), vlogs and some giveaways...so my blog is very eclectic and I am just going to stick to that for now
!
Hopefully everyone can find something that they enjoy reading about when they visit my blog.
Alright, well that it's for this week's Sunday Social. Thanks for stopping over to read my answers to the 6 questions and hopefully you'll link up with us as well (don't forget to grab the button on their blogs). Thanks to
Ashley
&
Neely
for hosting!!