I wanted to share with you all, an organization that I just recently found out about by following other bloggers. It's called
Compassion International
- a faith based organization, founded in 1952 by Rev. Everett Swanson, that exists as an advocate for children, to release them from their spiritual, economic, social and physical poverty. It is similar to other child sponsorship organizations, however it distinguishes itself by being:
Christ Centered. Child Focused. Church Based. Committed to Integrity.


Their two main programs are:
(1) Child Survival Program - supports and feeds malnourished children while training mothers to sustain the growth and development of their little ones.
(2) Child Sponsorship Program - through monthly gifts, prayer and letter writing, sponsors invest in the lives of children living in extreme poverty. A tax-deductible $38/mo. provides sponsored children with: food & clean water, medical care, educational opportunities, life skills training, and much more.
Their website also provides crisis updates (earthquakes, flash floods, landslides, etc.) and asks for specific prayer requests.
They work in Africa, Asia, Central America & The Caribbean, and South America
Also important:
Compassion consistently receives high ratings for financial accountability and integrity. Charity Navigator, America's largest charity evaluator, has awarded Compassion its highest rating -- four stars -- for nine consecutive years, placing Compassion in the
top one percent of all charities
.
So why am I talking to you about Compassion?
At the present time, I don't sponsor a child, although it is definitely something that I am interested in doing (the conversation has to be had with the hubby). Back in 2007-2009, I sponsored a child through a different organization, and I can already tell that Compassion goes to greater lengths to allow sponsors to actually see the impact that they're having and allow them different avenues to give to the children. But let me tell you, my heart is definitely there...it is something that I desperately want to do.
Two bloggers that I follow,
kept mentioning this trip that they had coming up...to Africa, Tanzania to be exact. I kind of dismissed it at first, but then started to get really interested in what they were going to be doing. And I am amazed after finding out...Compassion has partnered with them, and 4 other bloggers, and they are traveling to Tanzania (May 6 - 11) to see the ministry of Compassion themselves and write about it (read more
here
). I am in awe...what an amazing, life-changing experience I can only assume that they're going to have. And prior to the trip, these bloggers have been using their influence in the blogosphere by spreading the word about Compassion! And to be honest, I feel compelled to do the same.
Over the past few days, I've watched these ladies post about getting shots after shots (immunizations), stocking up on everything they need for their trip, packing, and asking for prayers from their readers. It's inspiring! To me, they have been given an experience of a lifetime and I don't know how anyone could go on a trip like this, and not come back changed in some way.
So if you want to follow the bloggers, you can check out each of their blogs daily, starting May 6, and also through these social media outlets: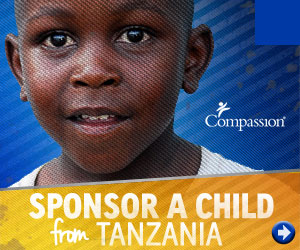 And feel free to join me in spreading the word about Compassion - find out how you can become a Compassion Blogger
here
!